If you are a beginner and you are new to makeup – it can be difficult to understand which products to purchase, because lets face it there is soo many! and where do you start? How can you build your kit without spending too much, so we have built a guide just for you. A beginners guide to makeup. The makeup essentials required to get your flawless skin, killer eyes and plump gorgeous lips!
Skincare is the most important step to getting the best skin results!
Makeup Essentials for Beginners – step number 1 – Exfoliation
Be sure to invest in a good exfoliator for your skin, to remove dead skin cells and keep your skin feeling smooth free of any imperfections before you apply your makeup.
Neutrogena Refreshingly Clear Daily Exfoliator, 150ml
£4.00
www.amazon.com
Neutrogena, refreshingly Clearer exfoliator deeply cleanses the skin to help prevent imperfections, remove dead skin cells
Contains key pink grapefruit and Vitamin C to heal the skin for a clearer, more radiant complextion
Note: please be weary of over exfoliation – do this once or twice a week! to prevent over drying the skin.
Makeup Essentials for Beginners – Step number 2 – Cleanse

(Daily)

Murad – Environmental Shield – Essential C- Cleanser
www.amazon.com
£24.00
Applauded as a true skin care visionary Dr. Murad was one of the first to use acids in skincare products. With a wide range of potent concentrated, carefully curated formulas, each product targets every common skin concern. Many skincare concerns that we face range from dark spots, hyper- pigmentation, lost elasticity, acne and dry skin. There is a solution for all different types of skincare worries.
The essential- C Cleanser tackles pollution and environmental skin damage. With its radiance-enhancing, skin regenerating skincare products.
This cleanser is perfect for deep cleaning the skin, reducing the impact of free radicals, pollution and lifting impurities from the skin. Combat the daily impact of environmentally damaged skin by removing irritants and restoring radiance on the skin. When you live in the city environment smoke, pollution can take its toll on the skin leaving it dull and dry. To restore the radiance using a good quality cleanser is definitely the first step.
This cleanser includes key regenerating and refreshing ingredients such as Mandarin Orange, Basil and Grapefruit. Using this cleanser will leave your skin feeling clean and totally free from trapped impurities. The first most important step to a good skincare regime. This cleanser can be and should be used AM and PM. For flawless makeup application use this product before applying your makeup.
Makeup Essentials for Beginners – Step number 3 – Apply Serum
Loreal Hyaluronic Acid Dropper Serum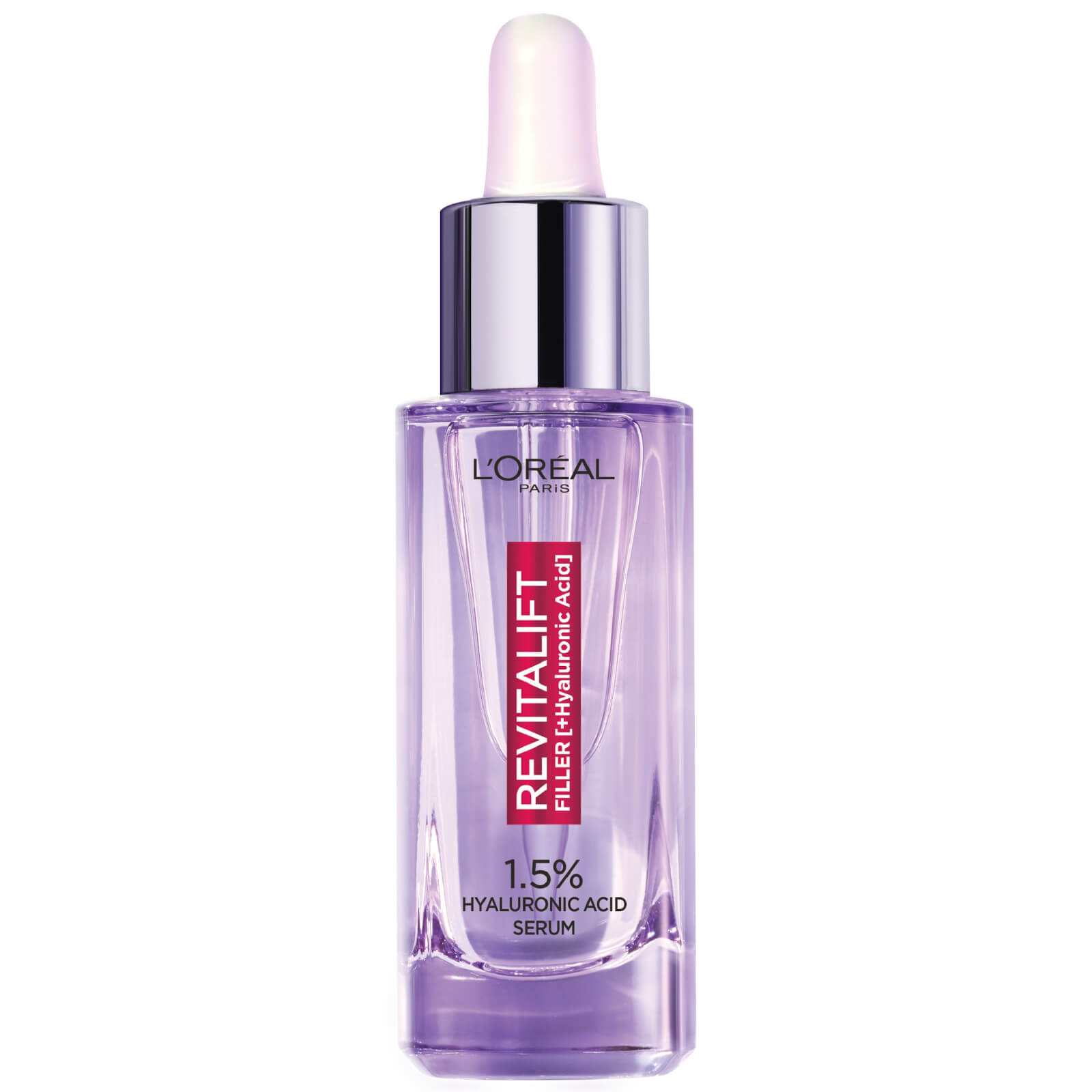 www.amazon.com
£15.34
This is a must have for your beginners makeup kit- the purpose is for  – deep moisture penetration. Meaning that in the long run your foundation will be flawless!
This serum is a lightweight moisturizer that penetrates deeper in the skin, to deliver active ingredients into your skin. Many top Celebrity makeup artists use serum as a staple item in their makeup kit. Kristofer Buckle believes that using a serum as part of your skincare regime can give your skin a firmer, smoother texture, it make pores appear smaller and increase moisture levels
This serum is saturated with 1.5% hyaloronic Acid , which prevents and fades age spots. The glycolic acid helps renew radiance. The hyaluric acid diminishes the look of pigmentation and has skin-brightening qualities with a gorgeous non greasy finish.
To really achieve the best results rub a pea-sized amount on your fingertips, gently warm up the product and pat into the skin. Massage it firmly in an upwards motion to help the penetration of the product. Use product AM or PM for best results.
Makeup Essentials for Beginners – Step number 4 – SPF
ALTRUIST. Dermatologist Sunscreen SPF 50   Lock in moisturise and protect your skin!
A good SPF is essential for a good texture and protection of the skin. Dermatologists recommend that wearing SPF is the most essential step to help help prevent sun damage and repair existing environmental damage on the skin. With the ultra powerful, antioxidant- rich formulation helps aids the improvement of skin elasticity and hydration. This product is fragrance free and ideal for sensitive skin. It helps protect and repair the skin, preventing UVA and UVB damage. It bestows a protective (and ultra-hydrating!) layer to fend against skin-damaging free radicals. Apply a generous amount of product and massage into the skin in circular motions. This step is great essential in maintaining and protecting your skin. Use product AM.
Use a small amount and ensure you blend this into the skin – use after step number 4 for best results!
Makeup Essentials for Beginners – Step number 5 – Moisturise
Moisturiser is so important and the whole purpose is to prevent the loss of water in the outermost layer of our skin. Moisturiser also helps to prevent environmental damage to the skin as it forms a protective barrier.
CHARLOTTE TILBURY
£34.32

www.Amazon.com
Referred to by Charlotte Tilbury herself as 'an anti-ageing, youth-boosting wonder cream-elixir!'
Simply massage within your fingertips and press into the skin, leave on prior to sleeping for an 'overnight facial'. This leaves your skin radiating just like a film star!
The formulation has been carefully crafted and is packed with a plethora of ingredients – including retinol and bionymph peptides. This accelerates the creation of essential collagen, leaving skin plump and rejuvenated.
A super hard-working night care treatment packed full of essential, skin nourishing extracts to eradicate dullness and recapture your beautiful, energised glow. The Charlotte Tibury Magic Night cream includes daphne stem cell extracts, which 'binds' cells together to ultimately heal, regenerate and reveal your brand new skin.
The ultimate skincare investment – Charlotte Tilbury Magic Night Cream.
Makeup Essentials for Beginners – Step number 6 – Invest in good brushes!
Zoeva Vegan Prime Cosmetic Brush Set
www.amazon.com
£118.99
This is a definitely a bit of a splurge but a burst of Ultimate luxury! Featuring 8 killer brushes, carefully crafted for each section of the face perfect for flawless makeup application. Each brush is labelled defining the purpose of the brush. Each brush is high quality with black wooden handles, accompanied with rose gold handles. These can be stored perfectly in the chocolate brown luxe pouch.
The brushes are soft and made from synthetic and natural bristles. The 5 larger brushes mainly are for the complexion, for foundation, applying blush (powder or cream), contouring brush – this is perfect for using with cream products as it has a straight horizontal edge. There is also a horizontal tipped brush perfect for applying under eye concealer.
The set also includes brushes for detailed focus on the eyes, from eyeliner brush, blending brush (however this can be used to apply highlighter too on the inner corners). There also is a fantastic array of detailer brushed perfect for getting right into the inner corners of the eyes or applying finer intricate makeup to the eyes.
The perfect gift to yourself especially if you are a beginner in makeup application and you want to take your makeup game seriously!
A more drugstore affordable alternative for makeup brushes is this set here by Oscar Charles.
www.amazon.com
£29.95
This set includes every single brush you will need as a makeup beginner from applying your foundation to, buffing in your contour. You even get a free Beauty Sponge! Shop Now
Makeup Essentials for Beginners – Step number 7 – Prime your skin
E.l.f. Poreless Putty Primer, Silky, Skin-Perfecting, Lightweight, Long Lasting, Smooths, Hydrates, Minimizes Pores, Creates Flawless Base, All-Day Wear, Flawless Finish
£8.00
This primer has a smooth putty/ balm like consistency. It has a super luxurious formula that glides onto the skin like butter. This primer will allow your makeup to last all day!
Find out more about primers now on our Top 5 of the very Best makeup primers in 2020
Makeup Essentials for Beginners – Step number 8 – Pick the right foundation
So you have primed the skin now its time to apply your foundation!
We absolutely love the Conceal & Hydrate Foundation by Revolution
£9.00
www.revolutionbeauty.com
The flawless, selfie-perfecting foundation, recognised and used worldwide is an absolute essential for a beginner. This is indeed a special one! Long lasting matte finish, pore blurring and simply magic in a bottle! This foundation is infused with hyaluronic acid to hydrate the complexion and make it look super dewy and healthy. Read more on the Top 8 Best Liquid Foundation you can buy to keep you always looking flawless!
Makeup Essentials for Beginners – Step number 9 – Contour and blush
ANASTASIA BEVERLY HILLS

Pro Series Contour Kit
www.amazon.com
£43.00
This palette is a perfect starter pack to contouring! It includes a wise selection of 6 shades for sculpting and highlighting powders. This product has been used by almost every social media influencer and beauty fanatic in the beauty community. It has the power to create those chisled, model – like cheekbones! This product is available in two shades Light/ Med and Tan/Deep. Whats great that these powders are forgiving if you make little mistake its ok! just blend it out! but be sure to apply a little amount at a time to built up the product gradually.
Multi use – this product can be used on the cheekbones, eyes, nose and jawline. Within the palette there are a grey toned shade that is perfect for creating that hollow. And more warm toned brown shades to give you that sun-kissed look. The Banana and Vanilla shades are perfect for really brightening up the under eyes.
Want to take your contour a step further? This is if your feeling brave!
ICONIC LONDON
Multi Use Cream Contour Palette
This product can be used alone or alongside the Anastasia Beverly Hills pro series contour kit. This difference between the two is that one is powder and the other is cream.
www.amazon.com
£33.50
The Iconic Cream contour works similarly to the Anastasia Beverly Hills palette however as this product is cream based it means that the pigmentation is very intense. A light application goes a very long way. When applying this product be sure to use a delicate hand and gradually built up the application. Best applied using a dense brush and blended with the same brush or a damp sponge. To intensify the contour apply the Iconic London cream contour then set this with the Anastasia Powder contour.
Here is a breakdown of where you need to apply your contour. Simply trace out the sane shapes and blend them out using any buffing brush.
Makeup Essentials for Beginners – Step number 10 – Conceal
So your skincare is on fleek! your foundation and contour is done, let's conceal this dark circles!
www.amazon.com
£5.90
The perfect concealer for a beginner in makeup. This brilliant liquid concealer is fabulous in covering dark circles, sculpting and illuminating the skin. Fantastic Goji berry and haloxyl formulation that helps rejuvenate and slow down skin ageing.
This is a great product for easy application and definitely a must have for beginners in makeup.
Makeup Essentials for Beginners – Step number 11 – Mascara
L'Oreal Paris Volume Million Lashes Mascara
£5.49
www. Amazon.com
A good mascara is so essential in your beginners makeup bag. This mascara is excellent to begin using as it give the perfect amount of length and really does thicken your lashes nicely without making them look too clumpy.
Makeup Essentials for Beginners – Step number 12 – Lips
For over all lip colour stay safe and use a gorgeous gloss!
These Kiko glosses are essential to having a plump pout.
KIKO MILANO – 3D Hydra Lipgloss
www.amazon.com
£7.99
Super stunning packaging and non sticky gloss! We love it!
If you want a more of a statement, a good lipstick can be the only thing stopping you!
Chose from Revolution beauty shades! Super pretty and ooh the packaging is to cry for!
Satin Kiss Lipstick Icon
£5.00
www.revolutionbeauty.com
The Revolutionbeauty lipsticks are so affordable and easy to wear, they don't feel too thick on the lips or heavy.
Makeup Essentials for Beginners – Step number 13 – Setting Powder
COTY Airspun Loose Face Powder
www.amazon.com
£10.48 
This powder is amazing! Simply amazing, what's so amazing about this product and what makes it ideal for beginners is purely the size! Its massive, so you are free to practice as much as you like! But the product itself is great as you can use it everywhere! Under your eyes to set, or all over the face! Its simply brilliant and an absolute must have for beginners when starting out in makeup!
In conclusion, there may seem like alot of steps to having a good makeup. And for a beginners guide this is quite extensive, especially because we go into a lot of detail regarding the skincare side! However these skincare items should be your staple! Because good skin, which gleams from within outshines the application of the foundation. Making your skin finish look absolutely phenomenal and flawless! We want you to have gleaming skin and then your application of makeup will look even better!
So it may seam like a lot but start investing now in your skincare and then you can really go to town with your makeup! Yasss!